Eliminating unsightly stumps is what we do!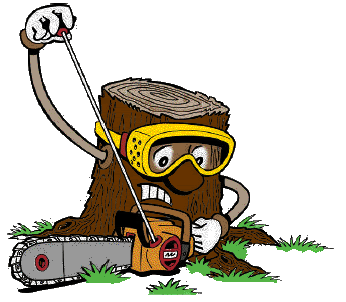 Contrary to what most homeowners may think, the stump is not pulled or dug out of the ground, thus eliminating a large empty hole left behind from the digging of the stump or damage to the surrounding area. The most effective way of stump and root removal with little impact on your surrounding area is by using specialized equipment which grind away the stump and surface roots, leaving biodegradeable wood shavings in place of the stump. Our selection of stump grinders are advanced powerful machines that are small enough to fit through a 36" garden gate, with the exception of the tractor mounted grinder. The variety of our grinders and level of service is what sets us apart from the competition. Most times our smaller unit is what is needed to get the job done. Depending on the terrain and size of the stump we have the option to use the best equipment for your job. All of our stump grinding operations follow industry rules of operation.
How to measure your stump for an estimate
.
The proper way to measure a stump is not across the diameter of the cut, but rather the longest distance accross at ground level. Please refer to the measuring example photo in our gallery section.
Our most portable grinder

.
This grinder is suitable for the majority of stumps we will encounter. We can easily fit through gates to access back yards with little impact to your existing landscape.
Our midsize Vermeer grinder
This unit has the mass and muscle to eliminate that mighty hardwood stump, yet still fits through most yard gates. With its hydraulic power it will drive into position to eliminate that stump.
Our tractor mounted pto powered grinder
This unit is large enough and powerful enough to access more remote areas and make quick work of those large stumps.
What about underground utilities
If there's a chance you have underground utilities running in the general area of the stump, we would require you to please call ahead to your local utility locate authority for a locate. The utilities will send someone out to mark your lines at no charge. Also, please let us know if you have an underground sprinkler system so we know to avoid the heads and lines.
Thinking of grinding your own stumps?
Perhaps you have the energy and ambition to attempt to remove your own stump. This is not an easy task, especially if you don't have the experience or the equipment. While you could go out and rent a small grinder for the day, the cost alone would most likely exceed what our rates are, not even taking into account the time you would spend plus hauling that heavy equipment back and forth.
Call us now...you'll be glad you did!

519.404.4551